Saturday, 16. June 2012 23:31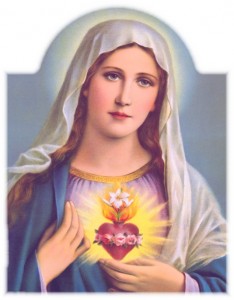 Today was the Feast of the Immaculate Heart of Mary. Now, to most non-Catholics, that's not a big deal. But recently, I completed not one, but two "consecration to the Immaculate Heart of Mary" this last spring. The book that I started with, "30 days to Morning Glory" said that "this is a life-changing event". When I first completed it, I really didn't "feel" any different. But as time has gone, I realize, this consecration, was really something huge for my Spiritual Life.
By giving my life TOTALLY to Mother Mary, it is like giving yourself over completely to God, because Mary is united to the Holy Spirit, who is united to God and Who Is God. So, when we give ourselves over to Mother Mary, we in essence give ourselves to God. But Mother Mary is SO loving, and SO patient with us. She guides us ALWAYS TOWARDS GOD AND NEVER AWAY FROM HIM. So many non-Catholics do not understand Catholic's relationship with Our Blessed Mother. They think we "worship" her AS God. We don't. We simply acknowledge that she has a special bond with God that no other HUMAN being has. Jesus is God AND human. Mary is totally human, except without sin. So, because of this special relationship that Mary has with God and Jesus, she is especially helpful in helping us to get to know God/Jesus.
After I did the "total consecration to Mary" by St. Louis De Montefort, I did start to feel a little something, but I couldn't quite put my finger on it. As time has passed I realized that Mother Mary has lead me deeper into my journey to find God, to know God, than I have ever been before, and she's done it quicker than I have in the last 50 years! That's something I read as well, that those who REALLY give themselves over to Mother Mary, heart and soul, that she does not waste a moment in bringing that soul closer to God/Jesus. There is also a thought that those who do give themselves to Mary, are never lost. Mary does not allow a soul to wander into perdition, those that give themselves truly to her care. She truly is OUR Mother. I really found that out, and am finding that out every day that I go deeper into my "total consecration".
So, after Mass I went to confession, as I try to go to confession about twice a month or so. So, one of the things that Mother Mary has been helping me to do is to re-evaluate the amount I actually sin. I have been "revisiting" sins that I thought I had stopped doing, but realized I was doing them all along. Things like judging others, being critical of others, and even avoiding those that I think are difficult to be around, or who I think don't like me. So, I confessed that, and the priest told me about St. Therese the little flower. He said, she saw all these great people around her, who were part of the Body of Christ, teachers, missionaries, preists, etc, and she wondered, "where do I fit in the Body of Christ?" "what is MY role in that body?" Then she realized towards the end of her life, that her role in the Body of Christ was LOVE. She would LOVE, completely and unconditionally. But knowing her own weakness, she asked God to love unconditionally those around her, THROUGH her, because her heart was just too human for the task. She realized she actually was turned off by many of the sisters around her, and that would not do for the Good God! So, He helped her to love everyone, by simply being patient and kind to them, even those she found very annoying or repugnant.
So, I thought about that today, how I, or rather, how all of us avoid those we don't like, or find annoying. We avoid them like the plague sometimes. Then I thought of this one Buddhist saying or story I had read…a monk was in the mountains alone, spending some time there meditating. He had a tent, and his sleeping mat, and a fire going, with a tea pot boiling. Another monk comes along, a stranger to the camping monk, and he sees the camp that the other monk has, and he knocks down his tent, stomps out his fire, knocks over his pot of tea and then walks off. Later when the camping monk was retelling the story, he says to his monk brothers, "gee, I miss that monk!" When I first read this, I did not understand it. Later, when I learned about "no enemies", I realized that was what the monk was practicing. Not only had he completely forgiven the monk that ruined his camp, but he LOVED him! That is what God wants of all of us! Unconditional love! We are all weak, and human. But all it takes is deciding to be patient with the quasi-friend that is harsh, or rude, to soften our hearts and love them, the way God wants us to. We will most likely have to beg for help in going through the meetings with these "friends" but over time, I have seen this in myself, our hearts soften, and we start to see the good that these people have deep down. Rather than seeing only the harshness, we see the deeper soul, holiness, or Buddha Nature as the case may be.
Another gift that I believe Mother Mary gave me on her feast day today, is she touched my heart so that I could REALLY see our wealth. By "our wealth" I mean the wealth of middle-class and upper-class people. Let me explain: I was in the grocery store after church, and I was buying corn, fresh corn on the cob. As I was looking over the beautiful ears of corn, I thought, "wow, how many people in this world would just die for ONE of these ears of corn!" Then the thought hit me…"what if I bought less for myself and my sister to eat, and with the extra money I saved, gave it to a food-bank so that some poorer people could eat a much needed meal?" It was almost like I was blind my whole life, and suddenly someone healed my vision. I couldn't believe myself…that I had been so blind for ALL my life!!?? So, I am going to start eating less, which believe me, I need to eat less!! Then the money I save I will give to charities that feed people. Then I wouldn't be quite so fat, and have weight problems, and someone else who needs the food, will have it! But this little awakening, didn't just show me about food, and our sharing our food, but ALL our wealth! Our homes, our clothes, our cars…what if you bought a slightly older, cheaper car than what you "wanted" and gave the extra money to a charity that provides cars for poorer people? How about living in a smaller home, with less accessories? All of those things, added up, and given to charities that really help poorer people…would mean that NO ONE would be without. This is what I got today…the biggest gift of my life, I believe….the ability to SEE beyond myself and my own needs, to see the needs of the whole world around me!!
So many times we look at the world, and say, "oh my God, it's SO overwhelming!! How can I, ONE person, make any difference?" Start small, don't get that extra coffee in the afternoon…save the money, after a month, give that money to the food bank, or charity. Don't use the money for yourself, for a bigger car, house, or more clothes…that is NOT the point of this practice. You have to "let go" of something you WANT, so that someone else can get what they NEED. Once you've done it, you will be so uplifted in mind, body, and soul, that you will want to give like that more, and more, and more. That is how the saints did it. Mother Theresa said it a lot…"just start with one." You don't have to do big things, just little things with great love!
Mother Mary has taken me in her Heart, and she will take you too, all you have to do is give yourself to her…if I could give my life to prove this I would, trust me, you will never regret doing it!
Namaste,
With Gassho,
God Bless
Sr. Frances
The Sisters of Embracement.org
Category:Uncategorized | Comment (0) | Author: FrancesKosac